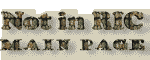 RIC VII, ROME 285, CONSTANTINE II, [CORRECTION], UNLISTED ISSUE
OBVERSE

ANEPIGRAPHIC (no legend); bust l., laur., dr., cuir.

REVERSE

CONSTAN/TINVS/CAESAR [CONSTANTINVS CAESAR]; rev. legend in three lines; star above. SMRA in exergue.

NOT IN RIC

[CORRECTION], UNLISTED ISSUE. This type is listed in RIC with officina S based on the unique specimen from British Museum. However, Bruun mentions in footnote 285 on p. 329 that originally officina letter was "recorded as A (?)" and he gives no reason why it was eventually changed to S. Actually, specimen from British Museum has SMRA in m.m.

The SMRA issue was struck before fall of Crispus and in fact it precedes by years the SMRP issue, i.e. ROME 281 (2.54 g, 19 mm), ROME 282 (2.36 g) and ROME 284 (2.42 g, 18 mm), which was struck probably in 328-329. See: Lars Ramskold, "Constantine's Vicennalia and the Death of Crispus", Niš and Byzantium XI, 2013.
NOTES

Weight 2.33 g; diameter 18 mm. Coin sold on eBay in February 2007 for USD 69.01. Ex Lars Ramskold. Sold on Leu Numismatik web auction 25 (lot 2878) in March 2023 for CHF 1,300.

Other specimens:

- from the British Museum Collection (reg. no. B2285); cited in RIC and in Ramskold's paper; weight 1.98 g [click for picture];

- from Ramskold's paper cited above, p. 427 [click for picture].