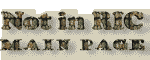 RIC VII, ROME [after 372], URBS ROMA, UNLISTED FOR TYPE
OBVERSE

VRBS-ROMA [VRBS ROMA]; bust l., helmeted, wearing imperial cloak.

REVERSE

She-wolf l. suckling twins; above, two stars. R branch Q in exergue.

NOT IN RIC

UNLISTED FOR TYPE. RIC lists this rare issue only for Constantine I (p. 341). See also CORRIGENDA, VOL. VII, p. 88. Coin should be listed after ROME 372.

See also:
ROME 372, CONSTANTINE I, [CONFIRMATION]
ROME [after 372], CONSTANTINE II, UNLISTED FOR RULER
ROME [after 372], CONSTANTIUS II, UNLISTED FOR RULER
ROME [after 372], CONSTANTINOPOLIS, UNLISTED FOR TYPE
NOTES

Weight 2.10 g; diameter 19-20 mm. From NVMMVS BIBLE II (NBD no. 37404) [Thanks to the collaboration of David Berthod].

Other specimens:

- sold on eBay in March 2011 for USD 102.50; weight 2.43 g [click for picture];

- from FORVM ANCIENT COINS; posted by leetoone; now in Adrian Marsden's collection [click for picture].